Compliance Management Software
Bridging a multitude of quality standards,such as ISO 9001, ISO 13485, AS9100 (Aerospace), IATF 16949:2016 (Automotive), and FDA 21 CFR Part 11 & Part 820 (Medical), the uniPoint Continual Improvement Suite ensures you can maintain and measure the cost and frequency of quality events. It also encompasses the principles of Lean Manufacturing.
Most compliance initiatives start as projects as companies race to meet the deadlines to comply with a specific regulation. However, compliance is not a one-time event and organizations are redesigning their compliance programs to make them repeatable process that can be sustained cost-effectively.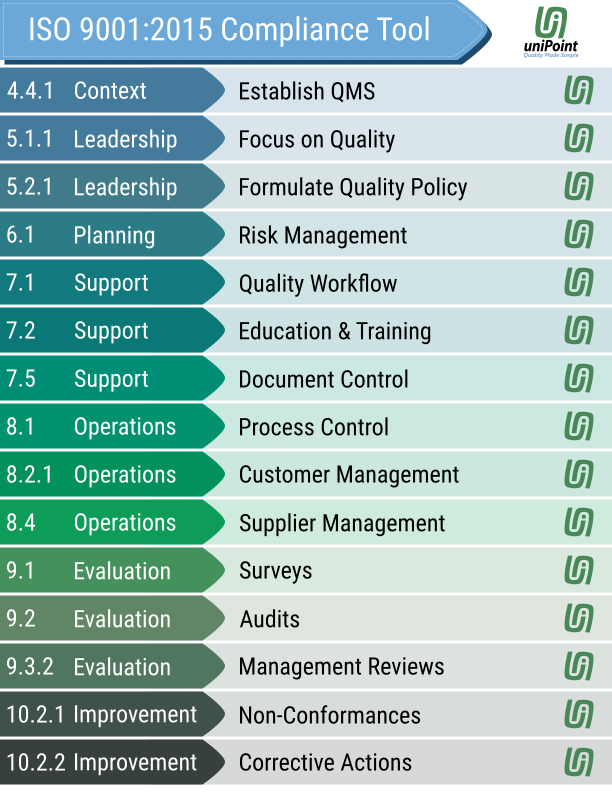 Traditionally, homegrown systems, stand-alone applications, or even manual paper-based systems have been used to manage various compliance processes at the departmental level to serve the needs of specific user groups. As various compliance initiatives become more intertwined from regulatory compliance and organizational perspectives, multiple and disparate solutions lead to duplicative, and often contradictory processes and documentation. Such environments do not provide clear visibility into the organizations' risk and compliance profile, bring down efficiency, and escalate the risk of non-compliance.
uniPoint Compliance Management Software solution provides a common framework and an integrated approach to manage all compliance requirements faced by an organization.
Consistent compliance and controls process across the enterprise eliminating any deviations and errors as well as redundant activities.
Automated information flows, assessments and testing, and remediation assignments reducing over all compliance costs.
Streamlined controls management enabling process owners to take direct responsibility for managing controls while auditors can focus on key compliance risks and project oversight.
Compliance dashboards provide enterprise-wide visibility into the non-compliance / compliance management systems and highlight issues that need to be addressed.
Integrated document management with change control capabilities keeps compliance documentation and business processes in sync.
Back